This page was last updated on April 17, 2017.
I WILL BE ADDING PHOTOS OF SEVERAL FRIEDERICY DOLLS OVER THE NEXT COUPLE OF MONTHS
THAT I HAVE IN STOCK, BUT ARE NOT PICTURED ON THE WEBSITE. PLEASE KEEP CHECKING THIS
PAGE AS I WILL ADD PHOTOS OF THE ACTUAL DOLLS AS I HAVE TIME TO TAKE AND POST THEIR PHOTOS!
All items pictured below are currently in stock and available for immediate delivery unless marked otherwise.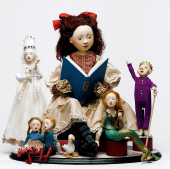 Hans Christian Anderson
approximately " high by " wide
One of a Kind
$4,250.00
This piece includes "The Snow Queen" and the 2 children from the story Kai also called Kay (the boy)
and his sister, Gerta; "The Ugly Duckling"; "The Little Mermaid" and the Emperor from "The Emperor's New Clothes".
Little Red Riding Hood
approximately " high by " wide
One of a Kind
$2,750.00
Fairy Tale Piece with Dragon
approximately " high by " wide
One of a Kind
$3,900.00
Lucia Friedericy Judith Friedericy Friedericy Dolls