This page was last updated on January 16, 2018.
All items pictured below are currently in stock and available for immediate delivery unless marked otherwise.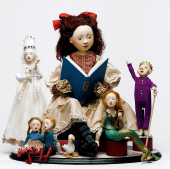 Hans Christian Anderson
approximately " high by " wide
One of a Kind
$4,250.00
This piece includes "The Snow Queen" and the 2 children from the story Kai also called Kay (the boy)
and his sister, Gerta; "The Ugly Duckling"; "The Little Mermaid" and the Emperor from "The Emperor's New Clothes".
Little Red Riding Hood
approximately " high by " wide
One of a Kind
$2,750.00
Fairy Tale Piece with Dragon
approximately " high by " wide
One of a Kind
$3,900.00
Chinese Girl w/ Lantern
15"
One of a Kind
$1,700.00
Flying Fairies
22"
One of a Kind
$2,300.00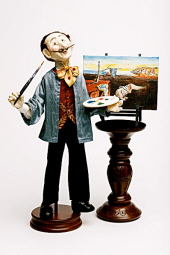 Dali
17-3/4"
One of a Kind
by Friedericy Dolls
$1,200.00
Lucia Friedericy Judith Friedericy Friedericy Dolls