This page was last updated on June 21, 2017.
All items pictured below are currently in stock and available for immediate delivery unless marked otherwise.
Discount given on all Friedericy dolls pictured on this page if purchase outright!
Discount will vary with doll, so please copy and paste my email address friendcompanyart@gmail.com
for information. Serious inquires only please!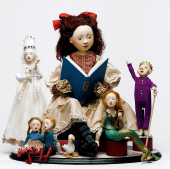 Hans Christian Anderson
approximately " high by " wide
One of a Kind
$4,250.00
This piece includes "The Snow Queen" and the 2 children from the story Kai also called Kay (the boy)
and his sister, Gerta; "The Ugly Duckling"; "The Little Mermaid" and the Emperor from "The Emperor's New Clothes".
Little Red Riding Hood
approximately " high by " wide
One of a Kind
$2,750.00
Fairy Tale Piece with Dragon
approximately " high by " wide
One of a Kind
$3,900.00
Lucia Friedericy Judith Friedericy Friedericy Dolls