This page was last updated on March 18, 2020.
SALE * 35% off all Maggie Iacono dolls * SALE
FREE ground shipping within the 48 contiguous US states for all Maggie Iacono dolls
until March 31, 2020.

CHECK OUT THE SPECIALS PAGE FOR ADDITIONAL MAGGIE IACONO DOLLS.

All dolls pictured on this page are in stock and available unless marked otherwise.
Send an email to friendcompanyart@gmail.com by copying and pasting this email to your
email account if you have any questions or would like the phone number to place an order.
We accept credit cards, money orders, checks and PayPal for payment.
PayPal invoices can also be sent if you would prefer to use PayPal.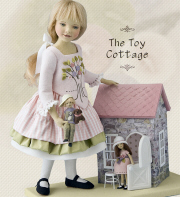 The Toy Cottage
16" doll comes with two 4" friends
& cottage with table & 2 chairs & dog
LE 40
2010 Collection
See below
The Toy Cottage
16" doll comes with two 4" friends
& cottage with table & 2 chairs & dog
#5/40
2010 Collection
$3195.00
Actual doll pictured above
The Toy Cottage
16" doll comes with two 4" friends
& cottage with table & 2 chairs & dog
#6/40
2010 Collection
$3195.00
Actual doll pictured above
Virginia
SOLD
16.5" / #3/60
2008 Collection
$1,250.00
Actual doll pictured above
Olivia
15" / #5/100
2006 Maggie Iacono Collection
$925
Actual doll pictured above
Olivia
15" / #7/100
2006 Maggie Iacono Collection
$925
Actual doll pictured above
Erin and Jamie
16" / #23/70
2002 Collection
$1,995.00
Actual dolls pictured above
Sylvie
16.5" / #1/70
2001 Collection
$1,250.00
Actual doll pictured above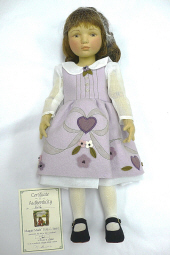 Viola
16.5" / #11/60
2000 Collection
$995.00
Actual doll pictured above
Maggie Iacono Maggie Made Dolls