SALE This page was last updated on April 28, 2017. SALE

All dolls pictured on this page are in stock and available unless marked otherwise.
SALE PRICES ON SPECIALLY MARKED DOLLS BELOW EXTENDED THROUGH SATURDAY, APRIL 29TH!
Short layaway available on sale dolls.
Free basic shipping
within the 48 contiguous states if doll or dolls are purchased outright!
Raina
15.5" / LE 40
2016 Collection
see below
Raina
15.5" / #16/40
2016 Collection
$1,350.00
Actual doll pictured above
$1150
Evelyn
15" / #4/100
2007 Collection
$925.00
$575
Olivia
15" / #5/100
2006 Collection
$925
Actual doll pictured above
$575
Olivia
15" / #7/100
2006 Collection
$925
Actual doll pictured above
$575
Olivia
15" / #8/100
2006 Collection
$925
Actual doll pictured above
$575
Olivia
15" / #9/100
2006 Collection
$925
Actual doll pictured above
$575
Peony
11" / #79/100
2005 Collection
$750.00
$475
Peony
11" / #80/100
2005 Collection
$750.00
$475
Hannah
17 1/2" / #30/70
2004 Collection
$850.00
$525
Erin and Jamie
16" / #23/70
2002 Collection
$1,695.00
$1275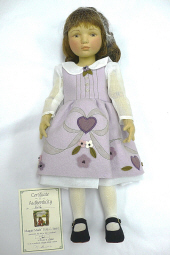 Viola
approx. 17" / #11/60
2000 Collection
$795.00
$495
Maggie Iacono Maggie Made Dolls