This page was last updated on May 1, 2020.
All dolls pictured below are brand new dolls received directly from the artist.
All are currently in stock and available for immediate delivery.
Send an email to friendcompanyart@gmail.com by copying and pasting this email to your
email account if you have any questions or would like the phone number to place an order.
We accept credit cards, money orders, checks and PayPal for payment.
PayPal invoices can also be sent if you would prefer to use PayPal.
Pauline
16-1/2"
Actual Doll Pictured
Porcelain/Composition
2002 Collection
$2,795.00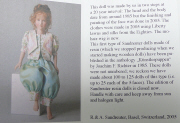 Early Sandreuter Resin Dolls
Dolls have moveable joints at shoulders,
waist, hips and knees.
1985 - 2005
The below dolls are small (15-1/2 inch) resin dolls
of the type that Abhinavo and Regina Sandreuter use
to make in the early 1980s. They kept a carton of raw
dolls heads and body parts packed away once they
began working in wood. In 2005, they carved and
sanded the faces and painted them to present day
standards and completed 12 dolls. These dolls were
not numbered because the original dolls were not
numbered. Regina estimates that approximately 100
total dolls were made of resin by her and her husband.
These dolls are very delicate and more primitive than
the later Sandreuter dolls. These dolls provide an opportunity for collectors of Sandreuter dolls to add a
very early Sandreuter doll to their collection.
Kissy 1
Actual Doll Pictured
Jointed resin doll with mohair wig
15-1/2"
$1,995.00
Kissy 2
Actual Doll Pictured
Jointed resin doll with mohair wig
15-1/2"
$1,995.00
Mecky
Actual Doll Pictured
Jointed resin doll with mohair wig
15-1/2"
$1,995.00
Toby 1
Actual Doll Pictured
Jointed resin doll with mohair wig
15-1/2"
$1,995.00
Toby 2
Actual Doll Pictured
Jointed resin doll with mohair wig
15-1/2"
$1,995.00
Claudine
Actual Doll Pictured
Porcelain/Composition
2004 Collection
$2,795.00
Sylvia
Doll B / 16-1/2", bear 4-3/4"
Actual Doll Pictured
Porcelain/Composition
2004 Collection
$2,795.00
Fleur
18.5" LE 6
2007 Exclusive Sandreuter
$2,995.00
Flora
18.5" LE 6
2007 Exclusive Sandreuter
$2,995.00
Regina Sandreuter